Power Picker sorting and recycling tool for excavators updated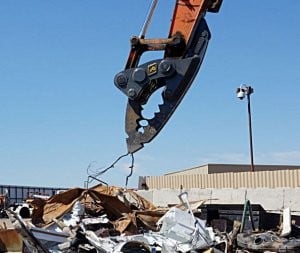 Based on customer feedback, Pemberton has updated the design of their exclusive Power Picker sorting and recycling tool for excavators. While typical excavator grapples grasp like a hand, the Power Picker grips like a thumb and forefinger. It has the strength and power to lift a car, but also the precision to pick off materials such as wiring harnesses, radiators, exhaust manifolds, and even remove engines.
The Power Picker also excels at separating the recyclable parts of white goods, allowing recyclers to accept and process items such as washing machines and water heaters that previously were not worth the effort. President Todd Pemberton points out that every customer that has purchased a Power Picker has gone on to purchase at least one more for their facility. He says; "this attachment is so cost effective and efficient that nobody buys just one."
Pemberton, Inc.offers buckets, grapples and a range of other attachments for excavators, wheel loaders and material handlers.