Next generation initiatives promote CNG-powered solutions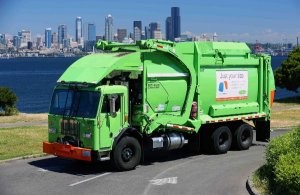 McNeilus' Next Generation (NGEN) initiatives promote CNG alternative-fuel powered solutions for refuse / recycle vehicles and heavy-duty fleets of all types. The company's CNG powered waste industry trucks are built for the most rugged environments, and are designed with the operator and service team in mind.
McNeilus says they have led the way in offering a route-ready, fully tested and integrated CNG system. Units are configurable to meet customer needs, whether in time-fill or fast-fill operations, and all vehicles feature a standard NGV1 fuelling receptacle and Deutsch-brand electrical connections. At the heart of the plumbing are CNC-formed high-pressure lines, compression fittings, and high-pressure hoses with 5,000 psi working pressure.
The frame comes with boss-mounted tanks and integrated 3/16-inch steel guards to protect both ends of the tanks. The tanks are lightweight NGV Type 4, tank covers have no wires or props to abrade the tanks, and a standard thermal pressure relief device (PRD) provides continuous full tank-length protection. McNeilus CNG trucks are fuelled and tested before arriving ready to customer specifications, and all McNeilus CNG vehicles meet NFPA-52 Standards.