RMT Equipment introduces the All Time Vision Camera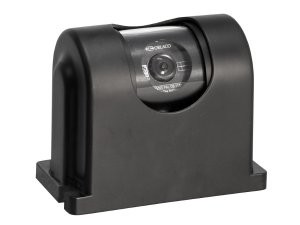 Montreal-based RMT is officially unveiling its newest vision product from Orlaco -- the ATVC, All Time Vision Camera, at ConExpo 2014 (March 4-8, Booth # 51839 Central Hall).
The ATVC is the camera that vehicle operators who constantly work in dusty, dirty, snowy, or rainy conditions have been waiting for. They will now be able to receive clean and clear non-stop vision feedback with the Orlaco All Time Vision Camera. This revolutionary camera system, similar to the TRACK-VISION camera system, allows the operator to receive uninterrupted real-time camera images from around the vehicle, regardless of the weather or working conditions. ATVC is unique. It comes with a distinctive integrated solution designed for this self-cleaning application.
RMT says the All Time Vision Camera is in a class by itself. The lens is built in a glass tube. When the cleaning cycle is activated, the tube rotates. Fluid, through a nozzle integrated into the system is sprayed onto the surface of the lens. The glass surface is wiped clean with a built-in wiper. The ATV Camera can be used either in a back-up or side view mode.
Established in 1996, today RMT Equipment is a leading North American specialist in weighing solutions and the TRACK-VISION Camera System for wheel loaders, forklifts, log loaders, excavators, mining trucks, scrapers, asphalt recyclers as well as conveyor belt scales and metal detectors. In 2010, RMT introduced North America to the XW family of wireless crane scales and grapple scales developed by Intermercato AB of Sweden. RMT systems and solutions are sold and serviced by a growing network of factory-trained equipment dealers throughout the United States and Canada.