SORTEX Z+ bichromatic optical colour sorter central to turnkey solution for rigid PVC recycling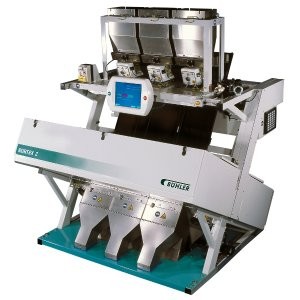 Plant and equipment technology specialist Bühler recently co-ordinated and installed a turnkey optical sorting system for Deceuninck, a Belgian sustainable building products manufacturer who says they view recycling as simply another source of raw materials.
The Bühler system forms part of a new PVC plastics recycling line, which will process both post-industrial and post-consumer rigid PVC waste. Opened in 2012, in Diksmuide, Belgium, the new installation takes Deceuninck's annual recycling capacity to 20,000 tonnes.
Central to the new system is Bühler's SORTEX Z+ bichromatic optical colour sorting technology, which is engineered to determine the purity of input product with exceptional accuracy within a split second. On the basis of colour, shape or other optical properties, materials are identified and separated from the desired product stream.
Bühler's SORTEX Z+ will sort two tons per hour of mixed PVC (50 percent white and 50 percent colour) into groups. At the Deceuninck operation in Belgium, sorted product will be reused and transformed by into new window systems and building products. SORTEX Z+ is fully customizable and available in four modules. Capacity can be flexibly adapted to meet exact specifications.