Candle filter engineered to recycle and reuse oil and coolant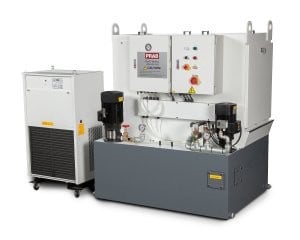 Launched in May, 2013, PRAB's new candle filter is specifically designed help companies recycle and reuse oil and coolant by removing fine particulate. Ideal for honing, machining and grinding operations, this new filter uses a permanent media in a long cylinder that houses over 10,000 thin membrane wafers to effectively and consistently capture grinding swarf at 1-3 microns.
According to PRAB, these dependable filters operate with virtually no downtime for maintenance, do not require replacing, and their self-cleaning, air-driven backwash system automatically clears the unit of dirt and debris, allowing the Candle Filter to perform reliably under long production runs.
Swarf and oil is purged into an external receptacle for easy collection and recycle, and an optional chiller ensures constant fluid temperature, varying only 1-3 degrees Fahrenheit, to maximize tool life and part quality.
Related Articles
Traditionally, waste management companies have operated using a simple "management of waste" approach to operating a MRF. Throughput targets and continuous operation (minimal downtime) were the main driving forces. The industry has changed however, and the focus moving forward is now on optimizing system performance and reliability, in conjunction with increasing recycling rates and a drive for a "greener" and more sustainable tomorrow.
When considering the addition of, or upgrade to, an "intelligent" MRF, for municipalities or private operators, the main factors should always be the client's (operator) current requirements, and evolving market needs, which include throughput, reliability, output quality, and adaptability. Equally important is a full understanding of what is really expected from any proposed system. Having an engaged and focused mindset for the project with the client from the beginning, will impact and drive the entire design process. This then impacts the overall project result, through to the productive, efficient, ongoing operation of the facility itself.