Titan 20 Shredder reduces scrap volumes by 80 percent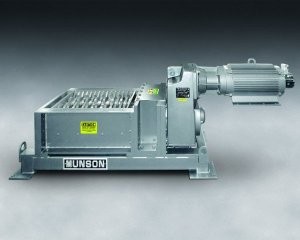 The Titan 20 Shredder is engineered to reduce the volume of scrap plastics, resins, fibrous products, fibreglass, wood products, paper/cardboard, gypsum wallboard, aluminium, glass, and other industrial, medical and manufacturing waste products by up to 80 percent.
The Titan 20 shredder features dual rotors with extended cutter teeth that chop and shred heavy volumes of large solids, with minimal power consumption, while self-cleaning without binding, plugging or increasing material temperature.
Cutter blades are mounted along two parallel shafts that are hexagonal in cross section, yielding higher strength and greater fatigue resistance than traditional keyed bar shafts. Options include smart auto-reversing controls, ram feeders, extended support legs, specialized hoppers, and gravity or pneumatic transitions.
For finer grinding, the Titan 20 is available integrated with Rotary Cutters, Hammer Mills or other Munson size reduction equipment.
Munson Machinery also offers blending equipment including rotary batch mixers, ribbon, paddle and plow blenders, vee-cone blenders, rotary continuous mixers, high intensity blenders, as well as Maxum shredders for shredding of abrasive materials.
More from Glass Recycling
Single-Ram and II-Ram High-Capacity Balers
At Machinex, we've been designing sorting systems for over 35 years, so we know how essential it is for MRF operators to have a baler they can trust and not worry about its operational reliability. This is why we design and manufacture reliable single-ram and II-ram high-capacity balers to specifically help optimize their operations.
Watch the video of our expert who presents the main features of Machinex balers delivering these important benefits:
Easy & accessible maintenance
Reduced maintenance & bale handling costs
Energy savings
Optimal bale density
For C&D recyclers, waste haulers, demolition contractors and landfills, there is a growing opportunity to profit from rethinking processes. Although every operation is different, by streamlining the front end of the C&D operation processes with purpose-built technologies, recyclers can tap into new end markets, accommodate higher material volumes, stay ahead of regulatory restrictions, increase recovery rates and add commodity revenue, while decreasing labor and other costs.
Download the new eBook to learn about:
Finding opportunities in the alternative to landfilling C&D
How facilities can increase their profits from C&D
Using the right C&D processing technology in the right locations