Titan 20 Shredder reduces scrap volumes by 80 percent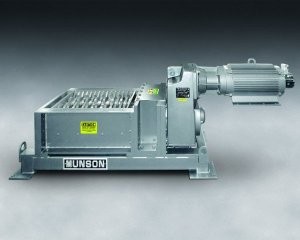 The Titan 20 Shredder is engineered to reduce the volume of scrap plastics, resins, fibrous products, fibreglass, wood products, paper/cardboard, gypsum wallboard, aluminium, glass, and other industrial, medical and manufacturing waste products by up to 80 percent.
The Titan 20 shredder features dual rotors with extended cutter teeth that chop and shred heavy volumes of large solids, with minimal power consumption, while self-cleaning without binding, plugging or increasing material temperature.
Cutter blades are mounted along two parallel shafts that are hexagonal in cross section, yielding higher strength and greater fatigue resistance than traditional keyed bar shafts. Options include smart auto-reversing controls, ram feeders, extended support legs, specialized hoppers, and gravity or pneumatic transitions.
For finer grinding, the Titan 20 is available integrated with Rotary Cutters, Hammer Mills or other Munson size reduction equipment.
Munson Machinery also offers blending equipment including rotary batch mixers, ribbon, paddle and plow blenders, vee-cone blenders, rotary continuous mixers, high intensity blenders, as well as Maxum shredders for shredding of abrasive materials.
Related Articles
Traditionally, waste management companies have operated using a simple "management of waste" approach to operating a MRF. Throughput targets and continuous operation (minimal downtime) were the main driving forces. The industry has changed however, and the focus moving forward is now on optimizing system performance and reliability, in conjunction with increasing recycling rates and a drive for a "greener" and more sustainable tomorrow.
When considering the addition of, or upgrade to, an "intelligent" MRF, for municipalities or private operators, the main factors should always be the client's (operator) current requirements, and evolving market needs, which include throughput, reliability, output quality, and adaptability. Equally important is a full understanding of what is really expected from any proposed system. Having an engaged and focused mindset for the project with the client from the beginning, will impact and drive the entire design process. This then impacts the overall project result, through to the productive, efficient, ongoing operation of the facility itself.