MSW Processing Systems for WTE & RDF applications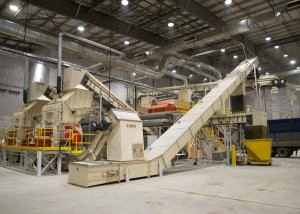 Vecoplan designs, engineers and builds turnkey mechanical systems that process MSW, C&D debris, Industrial scrap and other wastes to be used as Refuse-derived-fuel (RDF) in waste-to-energy (WTE) applications. The company's systems are used in facilities that produce a broad range of alternative fuels from waste, including: pellets, cellulosic ethanol, syngas, second-generation liquid transportation fuels, and other advanced biofuels.
According to Vecoplan, their systems provide application specific receiving, sizing or shredding, ferrous & non-ferrous metals removal, screening, size and density separation, conveying, loading & unloading, storage, and metered feeding of waste prior to the production of energy or conversion to fuel.
Vecoplan recently introduced their new Horizontal VTH 45/12/2 VU for lineal scrap. This is part of the company's line of continuous feed, horizontal shredders for lineal scrap. The VTH 45/12/2 VU features an 18-inch wide by 5-inch high infeed opening, a continuous-feed 16-foot vibratory feed conveyor, and is designed specifically for shredding strips, moldings, siding, profiles, composite lumber, pipe or any long waste.