Primary mobile crusher built around proven recycling jaw
New jaw crusher one of two models Terex Finlay to show at Conexpo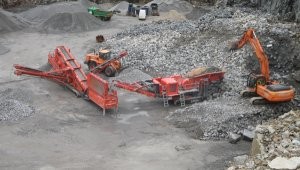 Built around the aggressive Terex 1,100 mm x 700 mm jaw crusher, which has a proven track record in recycling, aggregate production and mining applications, the new Terex Finlay J1170 Primary Mobile Jaw Crusher, uses a 1,100 mm x 700 mm jaw (44 inch x 28 inch) that provides excellent material reduction and product sizing in the processing of C&D debris, rock and ore materials.
The jaw chamber is available with optional hydraulic release with an automatic overload protection system to prevent damage by uncrushable items in the feed material, which is ideal when crushing construction and demolition debris. Units are is powered by either a Tier 3/Stage 3A Caterpillar C9 261 kW (350 hp) or a Tier 4i Scania DC9 70A 257 kW (350 hp).
"The J-1170's 45 tonne transport weight and compact dimensions mean lower transport costs between and within crushing sites. The robust and intelligent chassis design, with good clearance on both ends, also enables safe and easy loading onto all transport trailers. When you combine these factors with the excellent crushing capabilities the machine easily meets the demands of owner operators and crushing contractors," said Nigel Irvine, Finlay Sales and Marketing Director.
The J-1170 will be on display at the upcoming Conexpo / Con-Agg event in March, 2014, in Las Vegas, along with Terex Finlay's 684 3-deck inclined screen.
"We look forward to attending the Conexpo/Con-agg show," said Keith McCann, Sales & Marketing Director (North America), Terex Finlay. "In the past couple of years we have recorded exceptional growth in North America. The timing of the show has been perfect for our business as it allows many of our new dealers, and off course our established dealers, the opportunity to meet and connect with customers on the stand.
"The show will be the first time either the J-1170 jaw crusher or 684 3-deck inclined screen have been displayed at a show in North American. Both machines were introduced in the past 12 months to the North American market, and have made a big impact on the market, becoming firm favorites with their operators and now sit at the front of mind with many owner/operators in the industry. Our experienced team of mobile crushing and screening professionals will be available on the stand throught out the show and look for to meeting and serving both new and existing customers"
The Terex Finlay 684 is a compact easily transportable machine that offers operators rapid set up and tear down times. The screenbox on the machine features three large 14' x 5' 7" (4.3m x 1.7m) inclined screens giving a large screening area of 236ft2 to provide efficient screening and high capacity. The screenbox features quick wedge tensioning, access holes and bottom deck hydraulic tensioning system to reduce time required for mesh changes. All four discharge conveyors are adjustable and hydraulically fold for transport. The fourth product 'oversize plus' conveyor has variable tilt and side slew to accurately discharge material for recirculation and stockpiling.