High torque, dual shaft tire shredders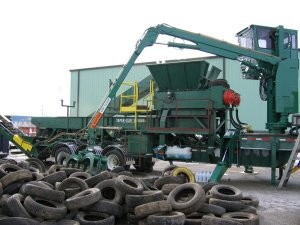 Shred-Tech's high torque, dual shaft shredders and systems range from 7.5- to 900 kW (10- to 1,200 hp) and are capable of processing automobile, truck and off-road tires at rates in excess of 20 tons per hour. Shredder systems may be stationary or mobile, electric or hydraulic, off-the-shelf or custom designed.
Shred-Tech dual shaft shredder systems include infeed/outfeed conveyors and classifiers designed to ensure 50 mm (2-inch) minus absolute sizing. Units are designed for extremely high knife tip cutting force, easy service and maintenance, durability and cost-effectiveness. A hex shaft drive system, high quality bearing and seal protection and a proprietary torque setting mechanism help to ensure low operating costs, reduced downtime and maximum safety.