Finger-Screen engineered to handle "lengthy" challenges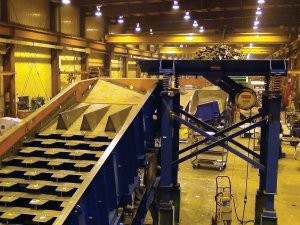 In auto shredding facilities, scrap material comes in all shapes and sizes. One main component that tends to be a costly maintenance issue are "pokers": cylindrical metal pieces that are 18 inches or more in length. Pokers can cause downtime, added maintenance costs and material handling issues. Bridging in storage piles or silos, jamming at 90 degree transitions, and damaging optical sorters and belts are just a few of the many problems pokers present. Safety also becomes an issue as pokers enter the high speed belt portion of the sorting process and literally become projectile hazards, with the potential to damage equipment and jeopardize safety. Increased savings and uptime can be achieved if pokers are accurately and efficiently removed from the other metals and processed separately.
General Kinematics (GK) has developed a unique version of their patented Finger-Screen technology specifically to remove pokers from more uniformly sized materials. In addition to producing a product that is easier to convey, process and sort, the company says this machine will significantly reduce maintenance costs in a facility from poker damage.
According to GK, their engineers designed the Finger-Screen with orientation lanes in front to position pokers lengthwise. This enables the 'fingers' to scalp them off effectively, sending the shorter, more uniformly sized materials to the appropriate openings where they drop through to a lower deck. By arranging the fingers in rows, one step followed by the next, the vibratory motion of the Finger-Screen causes material to freely cascade down the unit, turns it over, and improves classification efficiency.
GK says they routinely provide unique solutions for customers, implementing engineered solutions for the most critical process needs, and that their latest Finger-Screen machine has not only eliminated pokers from invading the main stream of scrap, but more effectively classifies scrap materials. Additionally, GK says the simple jam-proof movement of their Finger-Screen technology is ideal for auto shredding facilities.