Vehicle drainage technology designed for flexibility and high production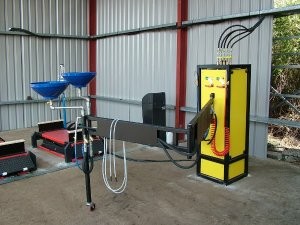 Crow Environmental's MIDI vehicle drainage technology is designed for flexibility and high production in auto recycling applications.
"The MIDI is designed for use between stationary racks or lifts that many recycling yards have built or already have in use," explains Mason Smith, President of MSS equipment, Crow Environmental's U.S. distributor.
"The MIDI is designed to operate and service two bays where vehicles can be drained of their fluids and in most cases, inventoried," Smith says. "With many yards wanting to be 'green', they are looking to the MIDI for fast, environmentally sound de-pollution of their vehicles."
"Not every yard is the same and with the flexibility of the MIDI we can meet the needs of the different racks and lifts that are already in place," continues Smith. "We can adjust height of the swing out arm, add a second arm, adjust height of gasoline spike, and allow for separation of all fluids that are removed from the vehicle, including the rear axle."
Crow Environmental says they have over 2,000 units operating worldwide, with over 400 now in North America. Crow offers systems for gasoline extraction, ranging to systems designed for full service and self-service yards, to a high volume system. Crow says they also offer full "turn-key" installations with storage tanks, site evaluations and all the equipment needed for vehicle drainage.