CAT de-canner uses guillotine and crushing action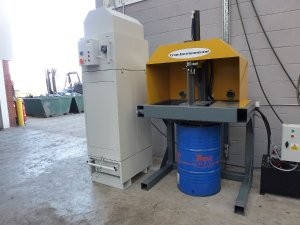 Based on the success of their CAT de-canner in Europe, Crow Environmental recently announced the product's availability in the North American market. The unit uses a guillotine to cut an end-of-life auto's catalytic converter and then squashes the can to crush the inner core, allowing easy extraction of the valuable remaining ceramic and dust. Extracted material is stored in a 55 gallon drum mounted under a work table.
The Guillotine is fully interlocked to meet European and American HSE requirements, and the whole process is done within a dust extraction hood ensuring every grain of dust is recovered. According to Crow Environmental, unlike other units on the market these CAT de-canners require no high level working platforms or tented areas. A compactor is available as an option for those wanting to minimize their shipping volume
Crow says that in a recent test focused on 1,200 CATs, the difference between selling CATs to a recognized dealer and selling de-canned CATs amounted to a more than 37 percent increase in return, giving these machines a payback of just eight weeks, based on processing 100 CATs per week.