CM Chip Shredder redesigned with dual drives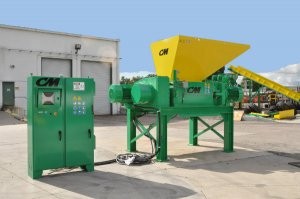 The CM Dual Drive Chip Shredder is now driven by dual 90 kW gear motors that work togother to process passenger car, light truck and SUV tires whole or, with other shredders as part of existing systems.
According to CM, the Chip Shredder produces the recycling industry's cleanest cut chips. Its proven technology processes up to 15 tons of pre-shredded tire material every hour.
These high production, low maintenance units are available with a variety of knife configurations, a high torque dual drive system, and features the ability to reuse knives multiple times. Units are also easy to integrate with existing systems, and CM's patented MULTI-STACK knife design operates at extremely close tolerances which produces a very clean cut with very little exposed wire. Plus, knives can be resharpened and reused which signifigantly decreases operational costs.