Spiral shaft technology designed for C&D waste materials separation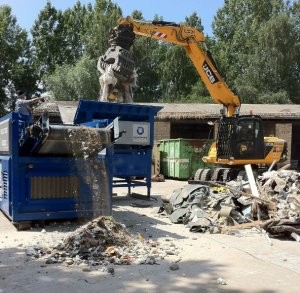 According to German-based Günther envirotech, even the smallest contaminants in pure building rubble, such as wallpaper residue, can make landfill disposal the only option, depending on location.
The company's multi-purpose SPLITTER is engineered for the separation of difficult-to-separate material from demolition and construction waste, for further processing and recycling. The SPLITTER is a spiral shaft separator, ideal for materials that are difficult to screen, including household, industrial and bulky waste, wood waste and bio-waste. This technology allows for the separation of a high-calorific fraction (e.g. stones) in different sizes by treating the waste materials. The undersize grain fraction can also be separated without any clogs due to the machine's unique combination of a roller conveyor with Archimedean spirals.
The SPLITTER uses an upstream feeder belt, where material to be separated is guided onto multiple spiral shafts driven with the same rotary direction. Materials that are smaller than the specified screen gaps fall down between the shafts. Long, narrow parts get carried out in the direction of the rotation, and thicker, cubic pieces via the freely extending shafts. The fractions of fine and coarse grain are then fed via conveyor belts to downstream processes.
According to Günther envirotech, the technology of the spiral shaft separator has proven its efficiency in recent years, in applications separating household and commercial waste.
The company adds that SPLITTER technology is being systematically developed, so different variants result, which allows for application in special areas, such as for the separation of undersize grain fractions with a screen gap of 20 mm to 500 mm, and for the separation of oversized parts. This is especially a relevant issue in applications separating waste wood and bio-waste, and for the treatment of refuse-derived fuel. Units are available in various configurations including a hook-lift module, on tracks, mounted on a centre-axle trailer, or in a stationary version.