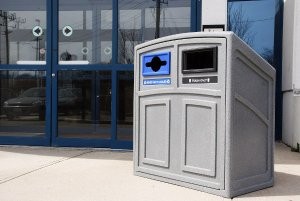 Busch Systems says their innovative new recycling station, the "Uptown" is set to change the face of outdoor recycling collection. The company says they design more new molded recycling and waste containers than all other manufacturers combined, and that this new recycling station is in line with the company's goals.
"In design meeting for the Uptown, we posted four larger-than-life goals on the product board", states Brandon Rutledge, Product Strategist for Busch Systems. "Durability, Functionality, Adaptability were the first three goals. Ridiculously Good Looking was the fourth. This last goal started out as a joke but I truly believe the end result achieves all four".
The new station comes in standard finishes but is completely customizable. The ability to choose different openings, combined with interior deflectors and a durable, rotationally molded design set the Uptown apart from conventional recycling and waste stations.
"The Uptown is the best outdoor waste diversion option on the market today", states Rutledge. "There isn't one inch of the Uptown that hasn't been meticulously thought out and tweaked to provide the unit with everything that other options lack".
The new station's double-walled door design and rotationally molded body provide increased durability which is lacking in units currently manufactured using recycled lumber. The container's design not only provides strength, the materials used to construct the unit provide a more cost-effective solution as well.
Build-A-Bin
Busch Systems' recently introduced their Build-A-Bin program which allows online users to customize their recycling bin based on colour, openings and custom stamping.
"We're more than just a recycling bin manufacturer," states Chris McBrien, Marketing Manager for Busch Systems. "We have always strived to provide value through additional resources. The Build-A-Bin program continues this effort." Visit www.buildabin.buschsystems.com.
Busch Systems has been a world leader in the design and manufacturing of recycling, compost and waste containers since the company's inception in 1985.