Integrated enclosure system for containers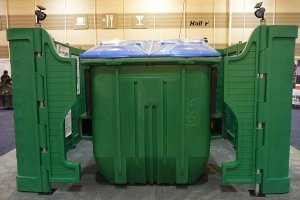 Introduced at Waste Expo 2013, Dumpster Mate is a new integrated enclosure system specifically designed for the waste and recycling industry. This product is a patent pending modular system constructed out of durable, environmentally friendly, 100-percent recyclable polyethylene (plastic) which makes it easy to maintain. Units surround most six- and eight-yard tall steel and plastic dumpsters and enable quick, hassle-free and efficient solid waste pick-up through wide, "saloon door" style entry.
Dumpster Mate will not rust or fade and is resistant to UV rays, saltwater and other harsh airborne chemicals. This product also never needs to be refurbished or repainted, comes in five standard or custom colours, is portable and is easily assembled in just a few hours.
Dumpster Mate says their product was designed to help waste haulers improve productivity, increase revenues and decrease operating expenses, and that units will save waste companies three minutes per stop when compared to traditional gated enclosures (on average). Plus, given its wide door design, drivers don't have to exit a truck to complete a stop which greatly reduces potential for injury and compensation claims, thus reducing operating expenses.
"We are proud to introduce an innovative product like Dumpster Mate to the waste industry, which can truly impact productivity and reduce costs," said Steve Goode, Dumpster Mate President and CEO. "Dumpster Mate is truly a game changer, providing bottom-line benefits to waste companies"