Aerosol can recycling system turns cans into scrap in five seconds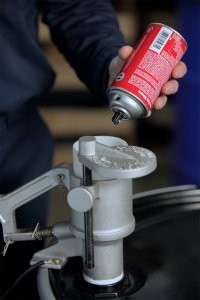 Designed to turn aerosol cans into scrap metal in as little as five seconds, this Aerosol Can Recycling System leaves users with a depressurized, empty steel can that can be recycled with other scrap metal. According to Andax Industries, the technology's manufacturer, average disposal cost savings when disposing of 4,200 aerosol cans ranges from $12,000 to $52,000.
This technology is designed to eliminate waste and reduce disposal costs and uses a non-sparking pin that ensures a safe, clean puncture. A combination coalescing/colormetric carbon filter captures odours and filters potentially harmful volatile organic compounds (VOCs), and the puncturing unit fits standard closed-head 30- and 55-gallon drums. Contents of cans are collected directly into a drum, with one 55-gallon drum capable of holding residual liquids from 4,000 spent cans.