Compact laser analysis for metals ID and sorting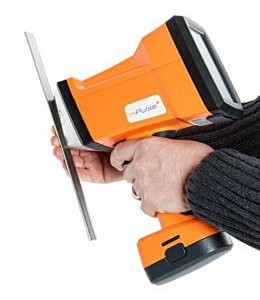 RMG Technology has introduced what the company says is the world's first compact, hand-held laser analyzer for metal identification. The mPulse is a miniaturized version of the technique currently in use on the Mars Rover and is presented in a rugged, battery powered, hand-held tool that can be used across the metals and recycling industries.
The new technique is called Laser Induced Breakdown Spectroscopy (LIBS) and has not before been presented in such a compact form, according to RMG.
Test take just over a second, units are calibrated for a wide range of metals and there is no discrimination between 'heavy' and 'light' elements. Operation is simple 'point-and-shoot' and all metal types are analyzed using the same Auto-ID test program.
Alloy name and chemical analysis is presented on a large sunlight-readable LCD. Large samples as well as small pieces, such as individual turnings and granules, can be tested and sample preparation is not necessary.
However, the mPulse is a surface analyzer so surfaces must be clean. Handled correctly, RMG says the mPulse is safe to use. Laser light is non-penetrative, non-ionizing and non-carcinogenic, and the powerful mPulse laser beam causes virtually no heating around the test area.