Compact laser analysis for metals ID and sorting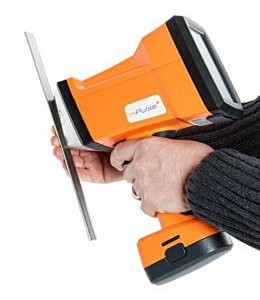 RMG Technology has introduced what the company says is the world's first compact, hand-held laser analyzer for metal identification. The mPulse is a miniaturized version of the technique currently in use on the Mars Rover and is presented in a rugged, battery powered, hand-held tool that can be used across the metals and recycling industries.
The new technique is called Laser Induced Breakdown Spectroscopy (LIBS) and has not before been presented in such a compact form, according to RMG.
Test take just over a second, units are calibrated for a wide range of metals and there is no discrimination between 'heavy' and 'light' elements. Operation is simple 'point-and-shoot' and all metal types are analyzed using the same Auto-ID test program.
Alloy name and chemical analysis is presented on a large sunlight-readable LCD. Large samples as well as small pieces, such as individual turnings and granules, can be tested and sample preparation is not necessary.
However, the mPulse is a surface analyzer so surfaces must be clean. Handled correctly, RMG says the mPulse is safe to use. Laser light is non-penetrative, non-ionizing and non-carcinogenic, and the powerful mPulse laser beam causes virtually no heating around the test area.
Related Articles
Traditionally, waste management companies have operated using a simple "management of waste" approach to operating a MRF. Throughput targets and continuous operation (minimal downtime) were the main driving forces. The industry has changed however, and the focus moving forward is now on optimizing system performance and reliability, in conjunction with increasing recycling rates and a drive for a "greener" and more sustainable tomorrow.
When considering the addition of, or upgrade to, an "intelligent" MRF, for municipalities or private operators, the main factors should always be the client's (operator) current requirements, and evolving market needs, which include throughput, reliability, output quality, and adaptability. Equally important is a full understanding of what is really expected from any proposed system. Having an engaged and focused mindset for the project with the client from the beginning, will impact and drive the entire design process. This then impacts the overall project result, through to the productive, efficient, ongoing operation of the facility itself.