Kenworth launches T880 vocational truck to correspond with 90th anniversary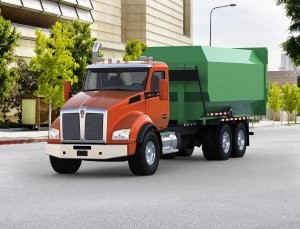 Kenworth Truck Company, who is celebrating 90 years in business in 2013, launched their new T880 vocational truck at the annual Mid-America Trucking Show in Louisville earlier this spring.
"As we celebrate Kenworth's 90th anniversary, the T880 represents our heritage very well as the latest evolution of our quality product line, while also reinforcing Kenworth's leadership in vocational truck performance," said Kevin Baney, Kenworth chief engineer.
"Vocational customers and drivers really demand a tough and durable truck in today's challenging work environments, and we are confident the Kenworth T880 will surpass customer expectations."
Baney continues; "For example, the T880 features a panoramic windshield for enhanced visibility, quiet cab with its triple-sealed and robust doors, a five-piece hood for easier and faster repairs, air-assisted hydraulic clutch, complex reflector headlamps, excellent maneuverability, and new lightweight, factory-installed lift axles that vocational customers will especially appreciate."
"On top of all that, we designed the T880 with distinctively sculpted lines that form an evolutionary, but uniquely Kenworth look."
The new T880 is specifically engineered for vocational applications, including refuse and recyclables collection, dump, mixer, and heavy haul. Its addition will complement Kenworth's current vocational line-up that includes the T800, T440, W900S and C500, and will be available for production later this summer.
The Kenworth T880 is standard with a 12.9-litre PACCAR MX-13 engine. With its high-end ratings of 500 hp and 1,850 lb-ft of torque, the PACCAR MX-13 engine provides a lightweight, fuel-efficient engine option for vocational applications, including dumps and heavy haul applications over 100,000 pounds. The T880 also is available with a Cummins ISX15 engine with up to 600 hp and 2,050 lb-ft of torque.
The T880 uses Kenworth's 2.1-metre wide, stamped aluminum cab, which is new for vocational applications, and which features a comfortable 23 inches of room between seats. First introduced with the T680 in 2012, the cab's extensive durability testing regimen focused on achieving the highest, demanding requirements for vocational trucks. Robotically assembled, the stamped aluminum panels are connected by Henrob self-penetrating fasteners to produce an extremely durable cab with enhanced resistance to noise, vibration and corrosion. The cab also utilizes Kenworth's signature cowl-mounted mirrors for better visibility, increased durability and reduced adjustment.
Additionally, the T880 is standard with a panoramic one-piece, bonded-in windshield with excellent visibility and thickness to minimize the effect of rock incidents. Kenworth is a PACCAR company.