Electric Side Roll provides load security for waste haulers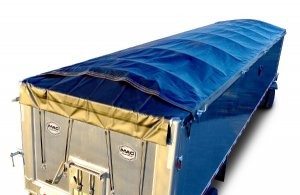 Pioneer, Wastequip's brand of tarping systems for the waste industry, has announced its new Electric Side Roll (ESR)-1000 tarping system for waste and environmental haulers. In response to "tightening" regulations, Pioneer designed The ESR-1000 to help haulers eliminate the issue of waste debris blowing from trucks. The ESR-1000's proprietary electric roll design provides a tighter fitting tarp than traditional manually operated waste tarping systems, and is watertight, preventing rainwater from seeping into a trailer.
For safety and ease of operation, the ESR-1000 uses a wireless remote control that allows a driver to stand off to the side of a trailer, or even remain safely inside the cab, to tarp and un-tarp a load. This technology can also quickly be converted from electric motor control to a manual operation in the field, eliminating the downtime associated with other systems that may require a trip to the maintenance shop for repair.
The Pioneer ESR-1000 system is lightweight, yet durable enough to withstand the rigours of daily waste hauling, and at less than 60 pounds, installs quickly and easily on waste and recyclables trailers "Pioneer continues to introduce products to keep waste haulers in compliance with ever changing load containment regulations," said Anne Brantley, director of product management. "Pioneer's ESR-1000 is a great product for addressing both regulatory concerns and operator safety."