Remote site, modular composting solution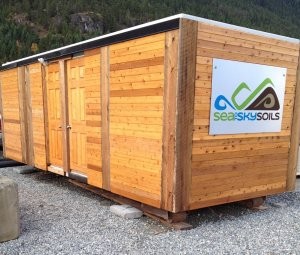 The Net Zero Waste Modular Composter (MC) is designed to provide the user with a one stop shop, turn-key, remote site composting solution. Designed to work with and complement the Gore Cover System, this modular equipment solution is meant for smaller design capacities ranging from 2,500 TPA to 20,000 TPA, and comes with its own diesel power system, making it ideal for use on remote locations where power is not readily available. The MC arrives at a site as a singular piece of equipment which is entirely self-contained and can be relocated, if necessary in a matter of minutes.
According to Mateo Ocejo, P.Eng., Net Zero Waste, the MC system was developed to remove unrecoverable costs associated with in-ground infrastructure which are often difficult to finance and are typically lost when relocation or design modification and expansion is required.
"Through the use of the Gore Cover System, which features one of the most energy efficient processes in the industry, we are able to operate this system exclusively through generator power while consuming less than one litre of diesel fuel per hour," says Ocejo. "The system data logs all necessary regulatory temperature and operating criteria and controls all internal power systems so as to optimize fuel and power utilization." Net Zero Waste's MC system also provides self-contained fuel storage (for up to two to four weeks of unattended operation) secure and safe storage of all equipment as well as an office for staff and field personnel who visit the site for operations. The unit comes pre-wired and provides a completely commissioned compost facility. The MC also comes with an alarm dialer so that an operator can be contacted should an error or concern arise with the process. Other add-on options are available, ranging from supplemental solar/wind/battery power, to site lighting, video security and weather stations which can be container mounted