MHL340 E material handler features more powerful engine with lower fuel consumption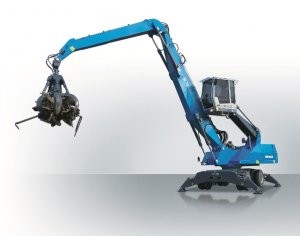 The new Terex® Fuchs MHL340 E material handler boasts a more powerful 173 hp (129 kW) turbocharged diesel engine than the MHL340 D it replaces, while at the same time lowering specific fuel consumption by 6%. The new material handler incorporates a simplified Exhaust Gas Recirculation (EGR) system for meeting Tier 4i/Stage IIIB emissions standards and uses passive regeneration to clean the diesel particulate filter.
"Regeneration occurs automatically during normal operating conditions, so as not to impact machine performance," says Steve Brezinski, Terex Fuchs product manager.
According to Terex Fuchs, it is a combination of power and reach that has made the versatile MHL340 Series material handler a preferred model for a broad range of indoor and outdoor applications, including work at scrap metal feeder yards, municipal solid waste (MSW) processing at recycling/recovery facilities (MRFs), and sorting material at transfer stations.
Customers can equip the MHL340 E with a variety of boom and stick configurations, offering up to a 44.9-ft (13.7-m) reach. A multi-purpose stick with 40-ft (12.2-m) reach includes a stick-mounted hydraulic cylinder to allow up and down movement of the attachment, increasing efficiency in sorting applications. The available Terex Fuchs Quick Connect (FQC) system allows operators to switch from the stick to a shear attachment in less than one minute, boosting machine flexibility and productivity.
The MHL340 E's revamped high-performance two-circuit hydraulic system increases main hydraulic pump capacity by 3%, compared to its previous version, to improve efficiency and machine responsiveness. Both the engine and hydraulic system include larger cooling systems protected by vented panels that provide increased airflow, so the material handler runs cooler in high ambient temperatures.
Additionally, a hydraulically height-adjustable cab gives operators a maximum eye-level elevation of up to 17.7-ft (5.4-m) above ground level, simplifying loading and unloading operations. Its cushioned cab elevation system provides absorption of shocks and jolts for operator comfort. Inside the spacious cab, updated controls improve operator productivity and comfort.
One other notable improvement from the previous model includes a 23% larger high resolution/high contrast Wide Video Graphics Array (WVGA) color display, which features an antiglare shield and scratch-resistant coating for easier viewing in direct sunlight and improved durability. Color video of the work area behind the machine is captured by the standard rearview camera and shown on the WVGA monitor for easy viewing by the operator.
Intuitive controls, including quick-access push buttons for frequently used functions, make for a short learning curve of MHL340 E operation, and the ergonomic multifunction button delivers effortless fingertip navigation through the display screens.
The machine's convenient stow-away ladder simplifies machine maintenance by offering quick access to the engine, central lubrication system and large area platform of the upper carriage service deck. The large coolers for the engine and hydraulic system are lockable and readily accessed from ground level.
Additional CAN Bus connections expand diagnostic capabilities, so service technicians can quickly identify and address underlying issues. Offering four-wheel drive, the Terex Fuchs MHL340 E has a 12.4 mph (20 km/hr) maximum speed to quickly move around the yard, while its 27-degree steering angle helps to efficiently maneuver around obstructions.
Finally, Terex Fuchs says a double-row slewing ring design disperses forces over two rows of bearings to improve component service life and durability. Inverted hydraulic boom cylinder mounting offers superior protection during loading and unloading procedures, while rigid hydraulic pipes located on the stick, boom and undercarriage help protect against damage. Plus, steel plates shielding the hydraulic lines at the end of the stick deliver additional protection to improve system reliability.
Company info
Related products
Related Articles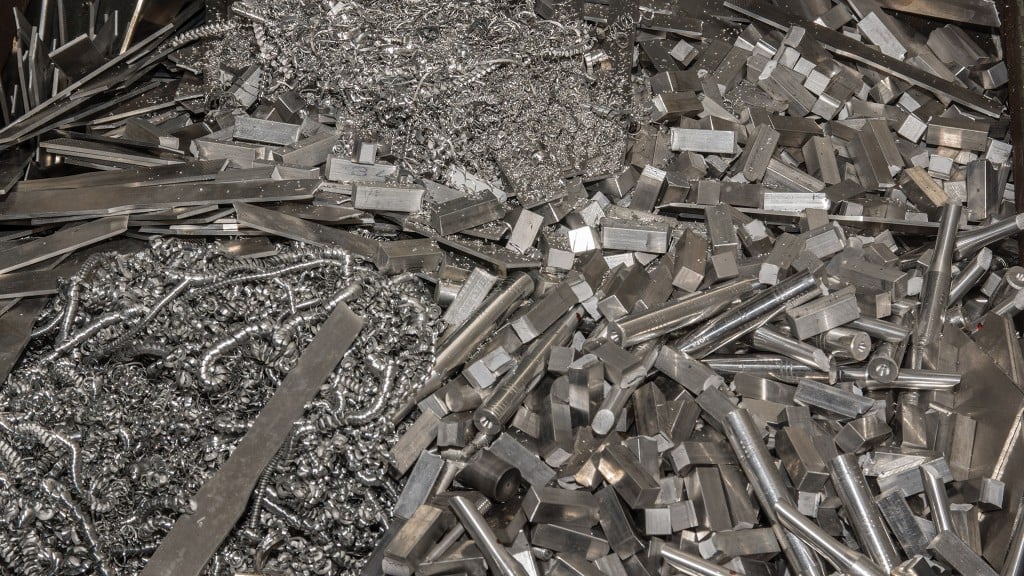 A look at the trends that will impact the primary and secondary aluminum markets in 2023 and beyond