Compact, light crushing and screening buckets designed for mid-range carriers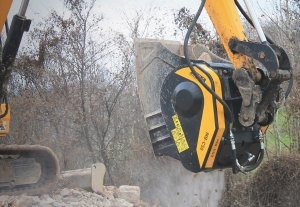 Unveiled at Bauma 2013 in Germany this past Spring, MB's latest models, the MB-S10 Screening Bucket and the MB-C50 Crusher Bucket, are designed as compact, light attachments suitable for mid-range carriers from four- to eight tonnes, and are ideal for use on small sites.
The new MB-S10 Screening Bucket weighs 445 kg and has a capacity of 0.6 cubic metres, offering high quality, quick processing and reduced management costs. Developed using the same materials and technology as previous MB Screening Buckets, the MB-S10 is also easy to transport and manoeuvrable.
The MB-C50 is the smallest in the Crusher Bucket range. Compact and light (to make installation and use easier) the new MB-C50 cuts down on processing time and expense, and eliminates needless transportation costs. The MB-C50 Crusher Bucket weighs 750 kg and has a loading capacity of 0.25 cubic metres. According to MB, the MB-C50 is one-of-a-kind and certified, and is the only holder of the double jaw movement patent, which ensures the highest productivity on all sites.