Sennebogen launches "Green Efficiency" in America with E-Series material handlers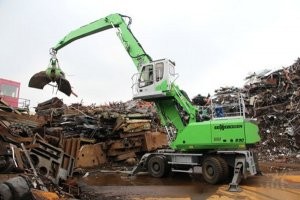 "They're good for the environment and they're easy on the budget." That's how Constantino Lannes, President of Sennebogen LLC defined their most recent round of design updates featured in the new 830, 835 and 840 model material handlers, introduced recently to the North American market. "E-Series Sennebogen material handlers mark the beginning of a new generation of machines building on fuel-saving and environmentally-friendly efficiencies throughout their power train and hydraulic system," said Lannes. "The result is a line-up of Tier IVi-compliant machines that also reduce operating costs."
Introduced by Sennebogen as their "Green Efficiency" models, the E-Series builds on the company's established standards in purpose-built material handlers engineered for continuous use in scrap and C&D applications, featuring high performance with low fuel consumption, high level operator comfort and maximum safety.
A key feature of the new "Green Efficiency" design is the "Eco-Mode" with no-load automatic stop function. The "Eco-Mode" setting combines reduced engine speed with an automatic idle control and a start-stop system that will effectively reduce fuel consumption. By using a new intercooler design with direct mechanical drive, the E-Series fan system delivers maximum air supply right from the start.
Plus, with an additional temperature-dependant oil and water cooler, the system's materials and components all reach their operating temperature quickly and uniformly, which in turn reduces overall energy demand. On all models, Cummins engines provide ample reserve power, even under high loads, setting high standards for low noise emissions.
Additionally, with reinforced cab windows and insulated sound transmission paths, sound pressure in the operator's cab measures 4 dB lower than previous models. And in all models, NOx (nitrogen oxide) emissions have been halved by the E-Series exhaust after-treatment system, and particulate matter has been reduced by 90 percent. The 830, 835 and 840 are also offered in 100-percent emission-free electric-drive models, which can reduce operating costs by up to 50 percent more when compared to diesel drives, according to Sennebogen, and provide low noise, vibration-free operation.
Other key features include: a new slewing drive system for rapid duty cycles; extremely robust hydraulic cylinders; an elevating maXcab comfort cab with specialized operator safety features; the SENCON control system and an array of periphery cameras; centrally accessible service points; and simple, computer-free engineering.
Company info
Related products