Automatic baler designed specifically for tire wire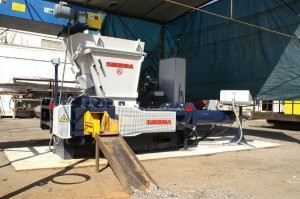 Sierra International's 80-2c HD automatic baler is designed specifically to handle tire wire. Units will bale tire wire and other materials, with bale sizes of 8 inches x 8 inches x variable, cycle times (empty) of 40 seconds and a hopper opening of 30 inches x 25 inches.
Average bale weight is 300 pounds, system pressure is 4,000 psi and units use a 65-hp main electric motor with a 20-hp auxiliary electric motor. Main and secondary cylinder forces are 160 tons.
Three other models of Sierra automatic balers are available, with bale sizes of 20 inches x 12 inches x variable and 15.75 inches x 12 inches x variable.
Company info
Related products