Sierra Monitor Fire and Gas Systems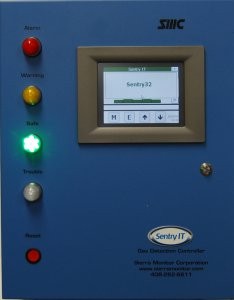 Sierra Monitor's new Sentry IT Fire and Gas Detection System builds upon the company's heritage of "Best in Class" intelligent hazardous gas detection. The capability of simultaneous interface via RS-485 Modbus, Analog 4-20, Relay contact and SentryBus insures that both new and legacy sensor modules can be deployed. Sentry Commander Logic insures that complex algorithms such as zone voting, delay timing, multiple unique alarm levels and other special requirements can be implemented with simple user configuration at the spreadsheet level.
Key features of the Sentry IT Controller include:
 Intuitive operator interface – touch panel color display with menu-driven prompts
 Versatility – multiple input types, multiple communication choices
 Scalable – deploy additional I/O blocks to expand capability
 User configurable alarm logic – powerful Commander logic allows user to develop comprehensive alarm and control schemes
 User simplicity – auto discovery of sensor modules; single-person, auto-adjusting non-intrusive calibration; multiple choices of main screen
 Easy interface to plant-wide systems – optional embedded web site interface and a selection of multiple protocols enables fast interface to plant control systems
This equipment is engineered to meet the requirements for maintaining a safe facility via the extensive data management systems provided in the Sierra Monitor controllers.
The new IT Series fire and gas control system with the network-enabled gas detectors, are the most comprehensive gas detectors available, according to Sierra Monitor, and meet user needs in integrated gas monitoring with plant-wide safety monitoring.
Sierra Monitor Corporation has be a manufacturer of ambient hazardous gas monitoring systems for over 23 years. With over 14,000 installations of fixed gas monitoring systems and access to the world's best gas sensor technologies, Sierra Monitor is a leader in hazardous gas detection systems. According to Sierra, their Sentry Gas Risk Management System is a leader in data handling for hazardous gas monitoring systems for over 15 years. The company says they were first with digital 2-way communication bus from sensors to controller, first with serial Modbus communication output for plant-wide systems, first with the ability to interface to other sensors and devices and now first to offer a cost-effective web-based graphical system for monitoring plant-wide hazardous gas conditions.
Company info