MHL360 E material handler boosts power and reduces emissions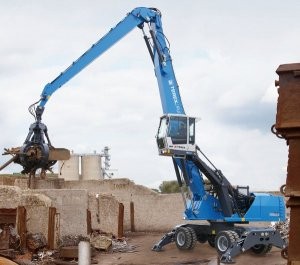 The new, purpose-built MHL360 E offers innovative features that deliver high-performance material handling in scrap, recycling, demolition and portside applications. Inverted hydraulic boom cylinder mounting offers superior protection from debris, while rigid hydraulic pipes located on the stick, boom and undercarriage help better protect against damage. Bearing points on the boom and lift cylinders are reinforced with solid, full-length metal, while increased pin diameters offer improved stability, and steel plates shielding the hydraulic lines at the end of the stick deliver additional protection to improve system reliability. Plus, the MHL360 E's rugged double-row slewing ring design disperses forces over two rows of bearings to improve component service life and durability.
These handlers offer Terex Fuchs' exclusive Blue Evolution approach to machine design, featuring a six-cylinder, 190-kW (254-hp) turbocharged engine. The MHL360 E offers more power than the D Series it follows, while improving fuel consumption and meeting stringent Tier 4i emissions standards. The unit's engine and hydraulic system are designed to work efficiently together to offer fluid load cycles, resulting in faster operating cycles at increased efficiency. Additionally, the unit's Terex Fuchs energy recovery feature feeds braking energy back into the main hydraulic pump as the operator slows slewing of the upper structure, to reduce load on the engine. This design helps to deliver up to 20 percent faster load cycles over the D-Series it replaces.
The MHL 360 E's Tier 4i-compliant engine features Exhaust Gas Recirculation (EGR) technology to significantly reduce emissions, compared to previous models, and a revamped high performance cooling system keeps the engine operating efficiently, even when working in extreme temperatures. Controls inside the 23-percent-larger cab have been updated to improve operator efficiency and comfort, and the handler's hydraulically height-adjustable cab offers a maximum eye level elevation of up to 6.1 m (20.1 feet) above ground level and independent forward movement up to 2.2 m (7.2 feet).
Company info
Related products