Modular recycling depots built from pre-cast concrete pieces.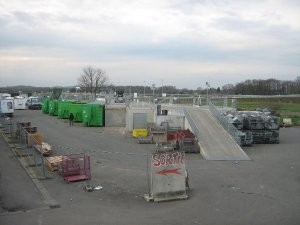 French company Modulo-Béton has developed the Modulo Centre – modular depots using pre-cast concrete building pieces that can be assembled to build above-grade depots. This patented system is proven in Europe and uses blocks or modular building pieces of 3x4 metres and 3x3 metres, with heights ranging from 90- to 300 cm. The pieces include two walls and a flat top surface – essentially creating a concrete table.
Blocks can be laid end to end and side to side to form a raised driving surface and platform. Ramps are used to allow vehicles to get to the platform. Units can be assembled in a configuration suitable to the site and municipal needs, and can be fitted with safety fencing as well as a heated driving surface.
Because the building blocks are built from load-bearing reinforced concrete, the space below the main platform is entirely usable, for equipment and recyclables storage, or even office space. To build a depot, first the customer develops a design and footprint. Because the units have no sub-surface foundations, only ground works are typically required for drainage and surfacing. The base is typically made from asphalt or concrete, and once completed, depots can typically be built in two to five days. Depots can then be expanded or altered as required to accommodate changing recycling streams, or even picked up and moved to another location. In Canada, Modulo-Béton has distribution out of Ontario, and the company says Scotiabank is supporting the lease of their facilities, soft costs included. Modulo recently sold its first system in Canada to EastForest Homes, a large residential developer and home builder in Kitchener, Ontario, for one of its construction sites.