Diamond Grip provides traction on slick ice, deep snow or hardpack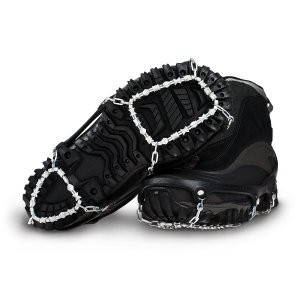 Waste management professionals don't get to choose the conditions they work in, and that can mean ice and snow that most everyone else gets to see out the window. They're in and out of trucks, moving heavy containers, and risking injury with every step. Staying safe and effective on the job in conditions like these takes serious traction, and that's what Diamond Grip from ICEtrekkers delivers.
In just seconds, Diamond Grip attaches dozens of case hardened, alloy steel grippers to the bottom of a shoe or boot. The patented six-pointed "diamond beads" are strung on steel aircraft cable and put literally hundreds of biting edges under the heel and the ball of the foot to grip the slickest ice, hardest-packed snow, and even rock or gravel. Easy to use and built to last, Diamond Grip is the most dependable way to enhance the winter safety of outdoor footwear when the work is hard and the conditions are harsh.
Diamond Grip is ICEtrekkers' top-of-the-line winter traction device, designed for the most challenging conditions. These slip-on ice cleats put a rectangle of gripping beads under the ball of the foot and a triangle under the heel, and attach them with hardened steel chain and steel rivets to a tough rubber sling that slips over the toe and heel of the shoe. The patented gripper design is self-clearing so there is no risk of icing up and losing traction.