Glass Gator increases safety and recycling capabilities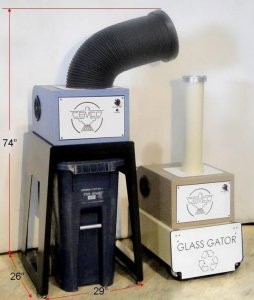 CEMCO, Inc.'s Glass Gator is engineered to offer restaurants, cafeterias, institutions, bottlers, recycling centres, bars and hotels an economical, powerful glass recycling tool that is safe, transportable, compact and easy to use. The Glass Gator quickly and efficiently turns waste glass into a 100-percent recyclable cullet or soft-edged sand byproduct, effectively reducing waste handling costs and minimizing glass-related injuries.
Offering the ability to process up to 40 to 80 bottles per minute, screen capacity of up to 50,000 bottles, and blade capacity up to 100,000 bottles, the Glass Gator makes quick work of everything from empty glass containers to broken shards of glass. The glass is quickly transformed from sharp hazardous material into rounded sand that is safe to the touch – significantly reducing injuries.
Additionally, the machine itself is quiet, safe and easy to operate, whether fed by conveyor or manually. The Glass Gator can be configured to different reduction sizes including 1/2-inch, 3/8-inch, 1/4-inch uniform cutlet, or 1/8-inch minus sand. Available in two models, the Glass Gator is 29 inches, or 74 inches high, and uses 1.5- or 3-hp NEMA Class C Electric motors. Both units are derived from CEMCO's popular Aggregate Impact Crusher, and feature abrasion-resistant castings and dynamic force of rotation for efficient, powerful operation.