Scrap shear ideal for entry-level scrap processors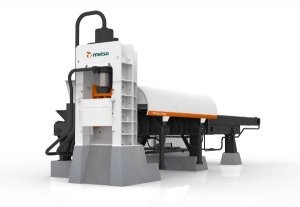 Introduced at the 2012 Expo Sucata exhibition in Brazil, Metso Recycling's new TS EcoCut, is designed as an economical, versatile scrap shear for a wide range of scrap types. This shear, part of the new Eco Line from Metso Recycling, fits small to medium capacity demands and promises good performance at an entry level price. Proven features such as a robust side compression system and an efficient hydraulic system ensure optimized operation. Plus, options like a 1 m or 1.5 m wide lid provide flexibility to adapt the shear to specific customer needs.
"Based on our extensive experience in metal recycling, the new TS EcoCut is our answer to the market demand for a robust and economical scrap shear. It provides great flexibility and a fast return on investment. Literally speaking, the TS EcoCut cuts costs while cutting scrap. This is why we are confident in this concept," said John Guerry, VP Metso TS.
A robust side compression system with overstroke ensures efficient pre-compaction in preparation for cutting, and the TS EcoCut's 1,000 ton shear force has enough reserve to cut heavier scrap as well. A choice of two different lid sizes, for bulky light scrap or medium to heavy scrap, is available.
Additionally, Metso says, high quality hydraulic components ensure optimum performance and service life, and an intelligent control system brings performance and energy consumption into balance. Additional flexibility and cost savings are provided by the unit's modular design. Large bed weldments are split into separate modules for easier handling during erection and lower transportation costs.