Catalytic hydraulic converter shears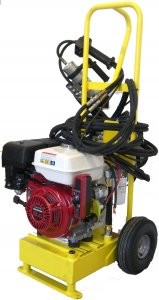 Supershear's Catalytic Hydraulic Converter Shear is engineered to easily remove catalytic converters during the process of recycling cars and trucks. Supershear builds three models of "Cat Shears", with varying hydraulic power units, and which are designed for the safe, economical processing of 10 to 100 cars per day.
A 110/220 volt Shear model is designed for use by a processing rack, and a gas model (shown) is self-contained and can go anywhere needed for processing. A 12 volt machine is also available, designed for smaller businesses.
"Most of my customers tell me the Supershear pays for itself in three months or less," says Larry DeMik, President of Supershear. "We also build a DeCanner shear to cut the converter in half for processing and increasing profits even further."
Company info