ST-100 Shred-Tech shear shredder redesigned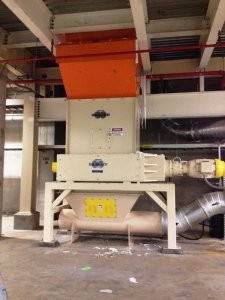 Shred-Tech's completely redesigned fourth generation ST-100 is a low RPM, high torque shear shredder. The ST-100 Gen IV has a modular, cast steel body design, featuring bolted and dowelled side walls to maintain bearing bore alignment and the rigidity of the assembly. It also incorporates a 32-inch wide cutting chamber in two lengths (32 and 60 inches) to accommodate shredding of larger components.
Available in gear-reduced electric or hydraulic drives, both models come with horsepower ranging from 60 to 150 and knife tip forces up to 86,000 pounds. Also included with the ST-100 Gen IV is a unique knife design that reduces torque demand while shredding and retains the ability to process bulky, hard-to-grab objects.
This system is ideal for size reduction of a wide range of materials including, plastic, wood waste and pallets, hazardous and medical waste, electronic scrap, metals and tires.