New FF Drawer magnet builds on proven design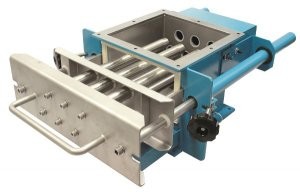 Bunting Magnetics Co. has taken the prominent tested features of their FF series and HF series magnetic drawer filters, and four decades of experience in the plastics industry and combined them into a single design which the company says, will revolutionize the industry.
The original Bunting FF Series Drawer Magnet was designed to set a new standard in equipment protection and product purity for plastic moulding equipment. Bunting says it once again is setting a new, higher separation standard for the plastics processing industry.
Bunting's NEO Self-Cleaning FF Drawer Magnet is ideal for recycling applications where particle size is small, and features easy cleaning with one smooth motion. Users do not need to remove any components for cleaning, which results in less good product loss. Plus, Bunting says the proven grommet style, found on their popular HF Series Drawer Magnets, has over 15 years of field testing, with proven results.
The Self-Cleaning FF Drawer Magnet comes standard with temperature-compensated rare earth magnets, with other magnetic loads available. Standard size will fit a 2-inch to 7-inch machine opening, with other sizes available upon request. Welded Stainless Steel housing is also standard for easy cleaning and durability and a detachable tramp tray alleviates messy cleanups and spills. A variety of options are available.