Modular Model 60 Wendt shredder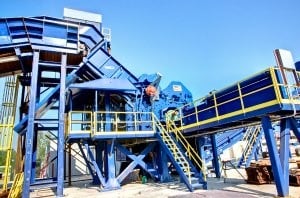 Wendt's Model 60 shredder is built with a unique, modular design that eliminates the need for a shredder building, which would typically support the pulpit, and contain the motor, hydraulic, and electrical rooms. All of the hydraulics are pre-plumbed on the mill, and the electronic components are fully installed in a portable e-house.
The Model 60 will process 30 to 60 tons per hour of automobiles and white goods, and incorporates many of the key design elements of Wendt's larger shredders, including increased plate thickness, reversible deflector box, mill-lock system, reinforced gusseting, and a hydraulic reject door.