Advanced tarping system technology for roll-offs
DC350 electric over hydraulic adjustable automated system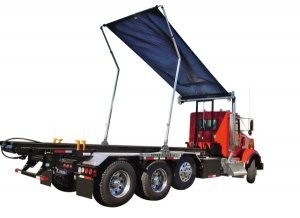 The Roll-Rite DC350 electric over hydraulic adjustable automated system incorporates the technology to eliminate the blind sides of tarping a roll-off. Drivers can stand away from the truck to tarp containers, affording complete 360-degree walk-around visibility during operation. Operators can also avoid system damage, reduce tarp wear and tear, and quickly and efficiently tarp loads – on multi-size containers – by simply pushing a button on the Roll-Rite wireless remote.
The DC350 includes four patents (and a fifth pending) and according to Roll-Rite, it's uniquely different than traditional hydraulic-driven roll-off systems in a multitude of ways. The system ships from the factory completely pre-assembled and pre-wired and installs in less than half the time, on average, of a traditional hydraulic system. Units are also equipped with an innovative gear-driven spring pivot and a patented sliding mechanism that combines 20 inches of travel with 180-degree arm rotation to easily tarp 20-, 30- and 40-yard containers (up to 22-feet long).
Plus, durable arms feature a three-piece patented design made of specially treated, high strength polished aluminum alloy. Repairs are easy, and replacement costs are about 66 percent less than heavy rust-prone steel. The tarp is wound onto a stationary spool by an electric gear motor, proven durable in over 15 years of high-torque tarping service.
Roll-Rite also recently introduced one-touch, automatic shut-off technology for their electric transfer trailer tarping systems, as standard equipment on all side-to-side tarping systems.