Software for unattended truck scales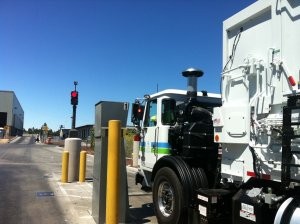 PC Scale, Inc's suite of product offerings have been specifically designed for recycling and solid waste management, healthcare waste management, landfill billing, transfer station, liquid waste, as well as tire recycling, gate house and truck scale ticketing for both attended and unattended scale management, and for municipal waste routing and billing.
PC Scale DAT 5.0 unattended truck scale management software is a MS Windows .NET based application, and is custom designed. Sturdy terminals are weather-tight and integrate with other PC Scale software solutions, such as route/billing management software, and waste & recycling scale management software used at landfills, recycling facilities and transfer stations.
With PC Scale DAT 5.0 users have the ability to: add additional hours and processing capacity across truck scales for in-house or third party waste haulers; capture relevant roll-off, recycling and waste hauling routing and billing information right at the time of the driver assisted ticket transaction; and capture all the information needed to accurately complete month end reporting and billing tasks.