Ballistic Separator screen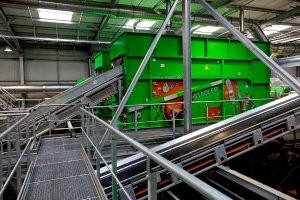 According to German-based manufacturer STADLER, the STT5000-101 ballistic separator screen was received with great interest at Waste Expo in 2012. The company says the main advantages of this machine are the very low operating costs and minimal maintenance requirements when compared to star-screens and other more conventional screens.
The STT5000-101 can handle almost any kind of waste stream and has a 99 percent performance rate if the minimal daily cleaning cycle is observed.
STADLER offers Ballistic Separators for a wide variety of materials: the STT2000 for light packaging materials, mixed paper and plastics; the STT5000 for industrial bulky waste and household waste including organic matter; and the PPK which is specially developed to be used in paper and cardboard sorting.
STADLER's special mechanical designs feature no vibration and precise mechanical adjustment of the paddles, providing a very good separation of 2-D, 3-D material and fines. Units also have low energy requirements and provide high productivity per square foot of surface. Zimmer America is the official North American distributor for Stadler's ballistic separator screens.