S1 TITAN handheld XRF analyzers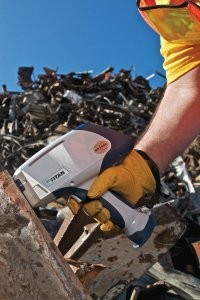 Bruker's S1 TITAN handheld XRF analyzer is among the lightest (1.44 kg including battery) tube-based handheld XRF analyzers on the market today. The innovative S1 TITAN features an integrated touch-screen colour display, an up to 50 kV X-ray tube, Bruker's proprietary, high-speed XFlash SDD detector with high energy resolution and light-element capabilities, and an ergonomic, yet tough housing that is sealed against humid and dusty environments.
The S1 TITAN is available in three models; the S1 TITANLE, S1 TITANSE and S1 TITANSP. The S1 TITANLE uses a thin film window for analysis of up to 37 elements, including light elements such as Mg, Al and Si, without the need for a vacuum or helium gas flush. The S1 TITANSE is perfect for analyzing standard alloys, as well as high temperature samples up to 500 degrees C. The S1 TITANSP is a value analyzer with a traditional SiPIN detector. With its aluminized Kapton window, the S1 TITANSP is able to measure in-process samples at temperatures up to 500 degrees C.
The S1 TITAN's patent pending SharpBeam technology optimizes both the detector and tube geometry. The optimized geometry has many user benefits, including improved measurement precision, reduced power requirements and increased battery life.
"We completely redesigned the instrument, in order to remove almost one third of the weight," said John Landefeld, Executive VP of Bruker's Elemental Division. "The result is one of the lightest tube-based handheld XRF analyzers on the market today."
Company info
5465 East Cheryl Parkway
Madison, WI
US, 53711-5373

Website:
bruker.com
Phone number:
608-276-3000
Read more