Extruder system and edge trim recycler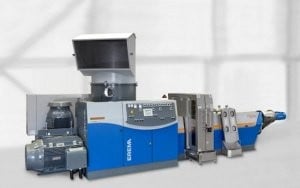 The TVEplus is the most advanced unit in Erema's family of vented extruder systems. The 1514 version is capable of 2,000 pounds per hour, and all models are designed to recycle more contaminated material than less advanced systems. According to Erema, tests of the TVEplus with heavily printed packaging film, for example, show an increase of approximately three times the efficiency at removing gases derived from ink, binding agents, other additives and incidental contaminating materials. Units can be equipped with an Erema RTF automatic backflushing screenchanger.
According to Rob Doti, Vice President of Manufacturing for Jadcore, a large plastics recycler from the U.S. midwest with a monthly capacity of six million pounds, and who recently purchased a unit, the Erema TVEplus is expected to open new recycling markets for Jadcore through its ability to handle more heavily inked and otherwise contaminated material than similar systems.
Doti said: "We have closely watched Erema's advances in technology over the years and are impressed with their understanding of how challenging some of today's scrap materials have become for reprocessors. The TVEplus takes these challenges head on."
Also available from Erema, the compact KAG is an automatic edge trim recycling system that produces high quality, pellet-like reclaim that may be directly routed to extruders or stored for future reuse. The system requires little operator attention. It responds automatically to varying feed amounts of trim, does not require prior cutting, and like all Erema systems, is a frugal consumer of energy. Units are capable of throughput of 150 pounds per hour.
More from Plastics Recycling
Single-Ram and II-Ram High-Capacity Balers
At Machinex, we've been designing sorting systems for over 35 years, so we know how essential it is for MRF operators to have a baler they can trust and not worry about its operational reliability. This is why we design and manufacture reliable single-ram and II-ram high-capacity balers to specifically help optimize their operations.
Watch the video of our expert who presents the main features of Machinex balers delivering these important benefits:
Easy & accessible maintenance
Reduced maintenance & bale handling costs
Energy savings
Optimal bale density
For C&D recyclers, waste haulers, demolition contractors and landfills, there is a growing opportunity to profit from rethinking processes. Although every operation is different, by streamlining the front end of the C&D operation processes with purpose-built technologies, recyclers can tap into new end markets, accommodate higher material volumes, stay ahead of regulatory restrictions, increase recovery rates and add commodity revenue, while decreasing labor and other costs.
Download the new eBook to learn about:
Finding opportunities in the alternative to landfilling C&D
How facilities can increase their profits from C&D
Using the right C&D processing technology in the right locations