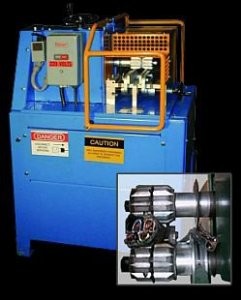 CSX-2010 cable strippers feature capacity from 1/16 to 4.5 inches. Designed for heavy-duty applications, the CSX-2010 has a capacity range from 1/16-inch (2mm) to 4 ½-inch (115mm) diameters. Two different cutting heads are available, with a Top and Bottom cutting system, and units feature full forward and reverse capability, a steel guide for large diameter cables and an automatic safety braking system. The CSX-2010 pulls up to 110 feet/min, for production stripping, and a step down gearbox is optional for armoured insulations.
• Electric requirement:
3 HP, 3 phase 220/440/575 volt 50/60Hz (single phase option)
• Machine Dimensions:
Length: approx 30" / 760 mm
Width: approx 29" / 730 mm
Height: approx 47" / 1200 mm
Weight:: approx 780 lbs / 355 kgs
Cable stripping and cutting tools are available for all sizes and types of cable, including complete cable granulation and chopping systems for cable, wires and electronic scrap.
Company info
Related products