CANMAG electric lift magnets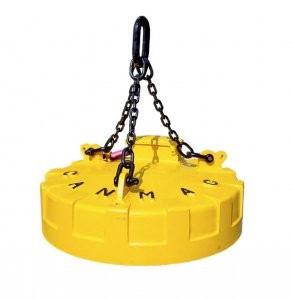 CANMAG electric lift magnets feature a heavy cast steel shell, with thick ribs for extra protection. Units are standard wound with a deep field aluminum coil, extra thick manganese steel bottom plate, and fully protected terminals with protective lid and plug in leads. CANMAG electric lift magnets also use high quality alloy steel chain assemblies, and copper coils are available.
CANMAG 230V DC LRH, LMR and LRD Scrap handling magnets are available in 28-83 inch diameter sizes, require minimum 3kW to minimum 36kW,are low amp cool running magnets, provide consistent lifts over extended periods, and are ideal for continuous rough usage.
CANMAG 24 Volt "Light Duty" scrap handling magnets are also available, in 24-48 inch diameter sizes. CANMAG LRV series, in 24-inch and 28-inch diameters, require a controller switch to turn the magnet on and off, and provide a quick drop. This controller can be supplied with electric push button control in a mountable assembly.
Company info
Related products
More from Metals Recycling
Single-Ram and II-Ram High-Capacity Balers
At Machinex, we've been designing sorting systems for over 35 years, so we know how essential it is for MRF operators to have a baler they can trust and not worry about its operational reliability. This is why we design and manufacture reliable single-ram and II-ram high-capacity balers to specifically help optimize their operations.
Watch the video of our expert who presents the main features of Machinex balers delivering these important benefits:
Easy & accessible maintenance
Reduced maintenance & bale handling costs
Energy savings
Optimal bale density
For C&D recyclers, waste haulers, demolition contractors and landfills, there is a growing opportunity to profit from rethinking processes. Although every operation is different, by streamlining the front end of the C&D operation processes with purpose-built technologies, recyclers can tap into new end markets, accommodate higher material volumes, stay ahead of regulatory restrictions, increase recovery rates and add commodity revenue, while decreasing labor and other costs.
Download the new eBook to learn about:
Finding opportunities in the alternative to landfilling C&D
How facilities can increase their profits from C&D
Using the right C&D processing technology in the right locations