CANMAG electric lift magnets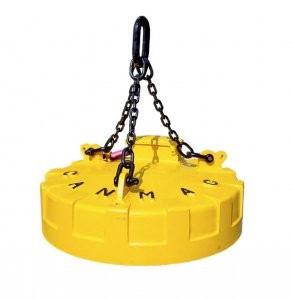 CANMAG electric lift magnets feature a heavy cast steel shell, with thick ribs for extra protection. Units are standard wound with a deep field aluminum coil, extra thick manganese steel bottom plate, and fully protected terminals with protective lid and plug in leads. CANMAG electric lift magnets also use high quality alloy steel chain assemblies, and copper coils are available.
CANMAG 230V DC LRH, LMR and LRD Scrap handling magnets are available in 28-83 inch diameter sizes, require minimum 3kW to minimum 36kW,are low amp cool running magnets, provide consistent lifts over extended periods, and are ideal for continuous rough usage.
CANMAG 24 Volt "Light Duty" scrap handling magnets are also available, in 24-48 inch diameter sizes. CANMAG LRV series, in 24-inch and 28-inch diameters, require a controller switch to turn the magnet on and off, and provide a quick drop. This controller can be supplied with electric push button control in a mountable assembly.
Company info
Related products