Highly versatile, durable metal tag for RFID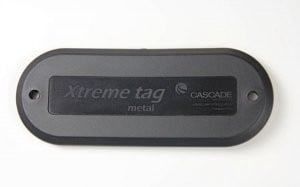 Cascade Engineering business unit Xtreme RFID has partnered with Fortune 500 company Avery Dennison to create a new and highly durable metal tag (encased in plastic using a customized, Cascade-engineered injection molding process) for use in a variety of challenging environments.
Designed to be mounted on metal, the Xtreme Metal Tag has a variety of applications – including solid waste and recycling, material handling and asset tracking.
One notable application is in steel dumpster tagging. RFID readers onboard collection trucks identify the tagged dumpster via the Xtreme Metal Tag's pre-encoded identification number. The reader notes the date and time of pickup, and if the load is weighed, the weight of the materials collected, and then associates it with that specific dumpster in the company's backend database for analysis. This data also allows companies to save money by optimizing their resources and increase revenue by refining their billing processes.