Above-frame, roll-off cable hoist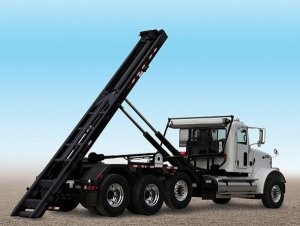 The Galbreath above-frame roll-off cable hoist is designed for maximum compatibility with various truck chassis configurations. Since the hoist is installed above the truck's frame and the oil reservoir is positioned behind the cab, it frees up space along the sides of the truck to accommodate various types of fuelling systems, including hybrids, compressed natural gas, liquefied natural gas and diesel trucks. The new above-frame design also easily accommodates most exhaust systems, including vertical exhaust, and it allows space for lift axles and the addition of a tool box.
Another key benefit of the above frame design is its speed. A single cylinder reeving system dramatically improves load and unload speeds by at least 25 percent. All cylinders used on the above frame hoist are single-stage cylinders which reduce maintenance requirements and associated downtime.
Above frame cable hoist models are rated at 60,000 pounds and are designed to accommodate containers ranging in length from 18 to 24 feet. Available above frame models include outside rail, inside/outside rail, extendable tail and deadlift.