VAZ 1300 NewGen wood waste grinder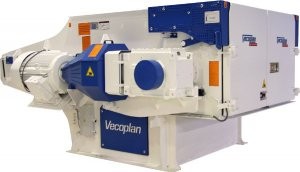 The VAZ 1300 NewGen is one of Vecoplan's new generation of wood waste grinders. The VAZ 1300 incorporates a wide range of innovations that improve performance, increase durability and decrease maintenance time.
These features and options include: cardan shaft drives, double sidewalls, reversible counter knives, hydraulic swing-up screen carriages, rotatable screens, and externally adjustable counter knives. Cardan shaft drives eliminate drive belts, lower maintenance costs and decrease overall machine and machine base widths. Double sidewalls reduce wear, eliminate contamination of and heat transfer to bearings, increase durability and lower maintenance costs. Reversible counter knives also deliver twice the life while cutting replacement costs in half. Plus, hydraulic swing-up screen carriages provide quick and easy access to the rotor for cutter replacements, tramp metal removal and other routine maintenance.
In addition, rotatable screens on the VAZ 1300 can be turned 180 degrees, increasing wear life by a factor of 1.5. And externally adjustable counter knives allow users to maintain optimal cutting tolerances quickly and easily. This is especially beneficial when grinding veneers and other thin materials.
The VAZ 1300 NewGen is a heavy-duty grinder for processing wood residue, trim blocks, panel scraps, furniture parts, cabinet components, pallets, dunnage, cardboard, paper and plastics. It features true dump and run operation, so entire containers of waste can be fed into its hopper.
Company info
Related products