Windrow turner scraper bar prevents odours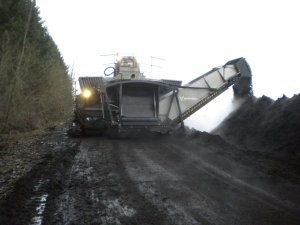 According to Komptech, the company's X-series windrow turners are the only turners on the market with an optional scraper bar mounted behind the drum. This patented device allows the turner to pick up all of the windrow, even the very bottom three to four inches, which many other turners leave behind.
Komptech says it's in these three to four inches where huge odour problems start for composters. Because this layer never gets turned, it goes anaerobic and begins to smell. When the windrow is turned, the bottom, smelly layer is exposed and odours are allowed to escape. This removable scraper bar rides on the ground surface, picking up the bottom-most layer and preventing any part of the windrow from going anaerobic, thereby preventing nasty odours.