Independent-tine scrap grapple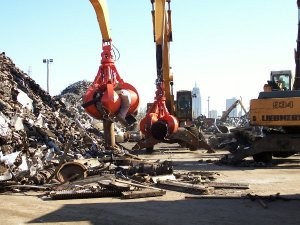 The Mack OPSIHCR-200-4 independent-tine scrap grapple is purpose-built for heavy-duty use on all types of hydraulic cranes and mobile scrap-handling equipment. This standard four-tine unit is designed for maximum load retention with a two-yard lifting capacity and continuous hydraulic rotation for ease of control.
Furnished to order with the required connector for any boom point, each grab is shipped pre-hosed and ready to go. The grapple's heat-treated T1 alloy steel construction combines light weight for high efficiency and lift capacity with rugged strength, including heat-treated steel pins and shafts sized to ensure maximum service life.
All service components feature recognized national brands, including Mack's own heavy-duty hydraulic cylinders, custom engineered and manufactured in-house.
OPSIHCR-200-4 grapples use replaceable bushings at all hinge points, simplifying service and extending service life, while grease fittings are strategically placed to minimize their exposure to potential damage.