BlueEVOLUTION material handlers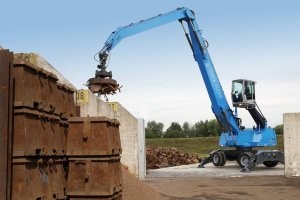 Terex Fuchs' E Series BlueEVOLUTION material handlers feature powerful Tier 4i-compliant engines engineered to deliver outstanding fuel efficiency.
Unveiled at ISRI 2012 in Las Vegas, the Terex Fuchs MHL350 E features a powerful 214 hp turbo-charged diesel engine, boasting an eight percent increase in power output over previous models. While delivering more power, these engines consume less fuel, protecting the environment and reducing operating costs. The engine also works in harmony with the machine's new load-sensing hydraulic system which provides power on demand, and which doesn't waste fuel by generating excess hydraulic flow.
The MHL350E meets strict Tier 4i/IIIB emission limits, and boasts a range of features that improve operating efficiency, including an Exhaust Gas Recirculation (EGR) system, an operator-friendly colour display with anti-glare which incorporates magnet system control and monitoring, a hydraulic drive cooling fan system, onboard diagnostics, and large ground-level accessible coolers.
Company info
Related products