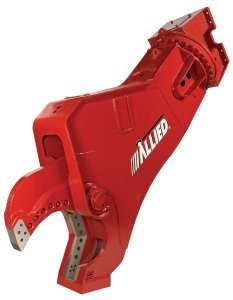 Allied Construction Products AMS Series Mobile Shears are specifically designed and built for scrap processing, industrial contracting and demolition applications, and are available in four models (AMS-30, AMS-40, AMS-50 and AMS-100) ranging from 721 tons to 1,446 tons of cutting force.
AMS shears feature a large pin diameter that allows for high levels of cutting force, as well as fast cycle times due to an integrated speed valve, which means lower costs per ton. Plus, high speed on the unit's 360-degree rotation offers greater operator flexibility, and four-way indexable cutting blades are capable of cutting on all four cutting edges.
Other key features of the AMS Series include a bolt-on bracket that allows for mounting on most excavators; an integrated speed valve that is more compact and comprised of only 13 parts; an auto-guide mechanism that delivers force on the upper jaw, preventing flexing; and a high-top design which protects the cylinder from debris.
AMS shears are manufactured with light weight Weldox 900 material, and will easily handle a range of material processing applications including ferrous and non-ferrous scrap processing, auto and truck dismantling, demolition, tank and silo dismantling, as well as wire, pipe, wheel and tire processing.