De-pollution systems for ELVs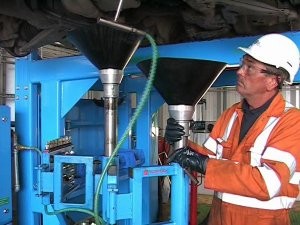 Vortex de-pollution systems for end-of-life vehicles (ELVs) were developed by company owner and engineer, Nigel Dove. These systems can handle more than 40 cars per day, and are designed to provide an extremely fast and ergonomic method for decommissioning vehicles, including all fluids. The Vortex de-pollution system is a production orientated design that removes pollutants and all other components that need to be removed prior to crushing, with a robust easy-to-use system which meets Europe's stiff laws for de-polluting ELVs.
Units drain all vehicle fluids, including engine oil, transmission and differential oil, fuel, coolant from radiator hoses and expansion tanks, suspension system fluid, brake fluid, power steering, wind shield wash, and anti freeze.
Using Vortex' fluid evacuation system (shown), motor oil and transmission oil can be drained simultaneously with the coolant fluid and gas. The coolant stick is penetrated into the hose of the radiator and stays there until the coolant is emptied. Plus, the unit's tool rack is set up so operators can easily reach for the right tool.
Available equipment in the Vortex de-pollution system line includes: wheel crushers; shock tools (for extraction of fluid from shock absorbers); air bag and seat belt pretensioner deployment units; storage tanks and handling equipment; pipelines, air line ring mains and compressors; tire changers; lifting equipment; hydraulic cutters; air and hand tools; an air conditioning refrigerant recovery system; and an LPG system which transfers both liquid and gas from vehicles to a built-in holding tank for either re-use or return to an LPG collection company. ELV de-pollution process training is also available.